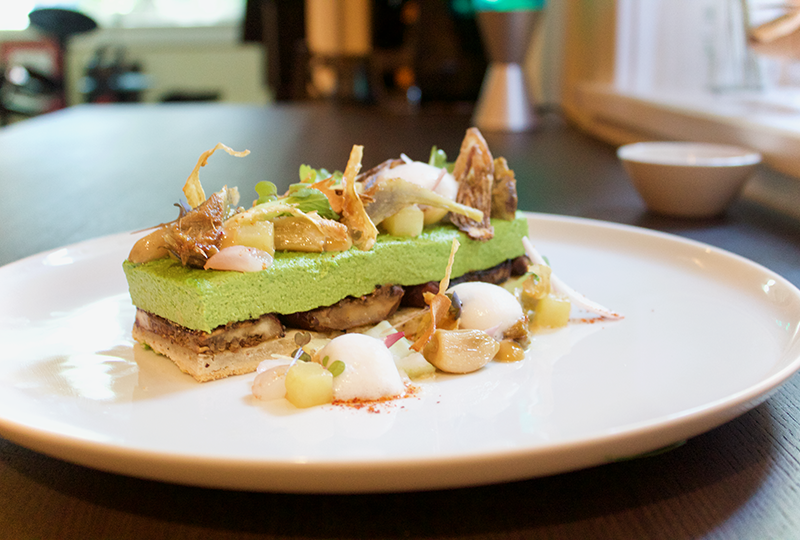 Last week, we shared a recipe from Sonora Resort's recent "Barnston Box Challenge," during which their Executive Chef Justine Smith (@chefjustinesmith) took on their Culinary & Beverage Director, Lukas Gurtner (@lukasgurtner) in a socially distanced, toe-to-toe cooking battle using the ingredients from one of our Barnston Boxes. This week, we're featuring the (abridged) recipe for Chef Lukas' entry, an astounding spiced tart with a bok choy and potato flan.
If you'd like to learn more about the Barnston Box Challenge and see more photos and videos of how the magic happened (as well as the full Tart and Flan recipe), check it out here on the Sonora Resort website.
INGREDIENTS
for Spiced Pie Dough
500 g all purpose flour
250 g unsalted butter
125 g water, ice cold
1 egg yolk
1 tbsp star anise, ground
1 tbsp cinnamon, ground
1 tbsp fennel seed, ground
1 tbsp Szechuan peppercorn, ground
1 tsp salt
for Marinated Eggplant
2 eggplants, cut length-wise and scored
1 tbsp ginger, minced
1 tbsp garlic, minced
1 tbsp lemongrass, minced
2 limes, zested and juiced
1 bun cilantro, roughly chopped
50 ml fish sauce
125 ml soy sauce
50 ml Hoisin sauce
1 tbsp Sambal
50 ml sesame oil
50 ml peanut oil
for Bok Choy and Potato Flan
1 large potato
4 pc bok choy, chopped and separated
1 tbsp ginger, chopped
2 tbsp garlic, chopped
1 onion, chopped
1 stalk lemongrass
2 limes, zested and juiced
2 pc Kaffir lime leaf
3 cups spinach
300 ml sake
500 ml heavy cream (36% m.f.)
400 ml whole egg
DIRECTIONS
for Spiced Pie Dough
Take butter and cut it into small cubes. Place it in the fridge to keep cold.
Mix spices, salt, and flour, together. Add butter from the fridge and with fingertips, mix everything together until it comes to the consistency of cornmeal.
Mix egg yolk and water together. Add this to flour and butter mixture. Mix this together until just combined, using a fold-over technique to incorporate this. When the mixture looks like it's just under-worked, its perfect (it will work together even more when it's rolled out to a thinner state).
Let this rest for up to 4-6 hours or overnight in the fridge. If it rests overnight, bring the dough out to room temperature an hour or so before rolling.
When rolling the dough, make sure to use a lightly floured working area so the dough does not stick. Roll the dough out to desired thickness and size (if going into a pie shell, 3-4 cm is good; if for a tart base, go a bit thicker to around ¼ of an inch).
for Marinated Eggplant
Cut eggplant into ½ inch strips length-wise, then score each side.
Add all other ingredients into a blender and blend until just combined. Toss into a bowl with your eggplant and let it marinate for at least 1 hour.
Press eggplant over a perforated tray, so the liquid can drip out for up to an hour (or even overnight, if desired). The longer the eggplant is pressed, the better the results.
Roast the eggplant. Layer tart base with roasted eggplant and cut into 4 equal pieces.
for Bok Choy and Potato Flan
Set oven to 335F. Place a pan inside with water for use as a water bath (ensure the other dish which you will be cooking your flan in fits nicely inside the pan).
Take other dish and line it with parchment paper so it covers the bottom and the sides (this will help you remove flan easily after it is cooled).
Peel potatoes, roughly chop them, and set aside.
Separate green tops from bok choy and set aside. Roughly chop bok choy whites.
Pre-heat a plan to medium-to-high heat. Sauté onions, garlic, ginger, bok choy whites, lemongrass, and Kaffir lime leaf, until translucent. De-glaze with sake and let reduce by half. Add potatoes and cream, and cook until the potatoes are tender.
Place mixture into a blender and start to puree. Slowly add eggs one at a time to temper them into the hot liquid. When done, add spinach in one shot (this will turn the mixture very green).
Strain your liquid through a chinois into your prepared dish. Bake for 20-40 minutes, depending on thickness. When flan has a slight wiggle in the middle, remove from oven and let rest at room temperature before serving (if you want to cut or portion this, it is best recommended to be cooled completely before doing so).
Using a ruler, cut pieces of your flan to match the size of your eggplant tart base. Very gently, place the pieces of flan on top of the tart using a large offset spatula. Place each layered piece on a large white plate.